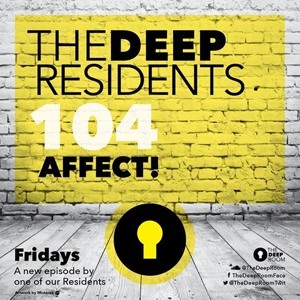 TheDeepResidents104 - Affect [Beachgrooves]
TheDeepResidents 104 - Affect

We welcome our new Resident : Affect
Every Friday a new episode by one of our Residents:
Affect> @affects
David Manso > @david-manso
Sam Pauli > @sampaulimusic
Rico From Paris > @ricofromparis
Mickey Imperi > @mickey-imperi

Tracklists and more on facebook.com/TheDeepRoomFace & twitter.com/TheDeepRoomTwit

Artwork by Mistarak > @planetmistarak

Premiered last Monday on BeachGrooves Radio > beachgrooves.com

Visit us on www.facebook.com/TheDeepRoomFace for new releases, TheDeepResidents podcasts, Guest Mixes Tracklists and more.

And also check out some of our previous releases:
> TheDeepResidents Collection
soundcloud.com/thedeeproom/sets/thedeepresidents
> Guest Mixes Collection
soundcloud.com/thedeeproom/sets/guest-mixes

#LOCKED2DEEP!!!