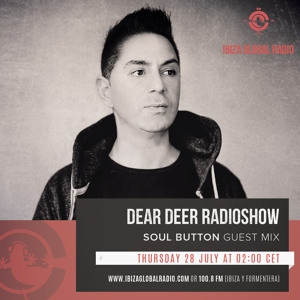 Dear Deer Radioshow - 019 - Soul Button
Love it? Click the Share or [↻ Repost] button!

https://soundcloud.com/soul-button

Hello, and welcome to our DD Radioshow EP019 tonight we are glad to present you, Berlin-based producer, Soul Button.

Soul Button's music is real, honest and genuine and sits neatly in the pocket of Deep House, however, its diversity also sees it meld into the outskirts of Melodic Techno. His well-deserved success over the last few years affirms his place in the current electronic music scene. His international exposure has absolutely skyrocketed, with ongoing tours and bookings worldwide, plus he is spending valuable time in the studio and consistently releasing new tracks. Since giving birth to Steyoyoke in 2012, Soul Button has spent a great deal of time breathing life into this label. As the heart and soul of Steyoyoke, his producing skills make him an aural innovator, empowering his work with a unique edge and thus stamping it with a trademark sound. He has always upheld a closeness with his fans and supporters and it is this connection that helps feed his creative inspiration. Please enjoy 60 min with Soul Button.